Shorthorn Cattle for Sale
Please contact Nile Valley Shorthorns for more information and availablity.
We have breeding stock available most of time!!!
Meat and milk in one package! Over All Volume, Depth of Rib and Length of Body is what Nile Valley cows are all about.

We strive to produce super deep sided, big barreled versatile maternal machines.
Use a Nile Valley Shorthorn bull to add milk to your cow herd.
Still the most efficient, economical method to increase your weaning weights!
Growthy calves from mother cows that milk!
Cows, Heifers, young bulls, or semen from a few sires.
Breeding stock from cows built for Grass & bred to Thrive in Fescue Country.
Call 660-826-7279 or 618-367-4190
or email us.... We will try to find what you are looking for.
contact us by email: roanbullman@aol.com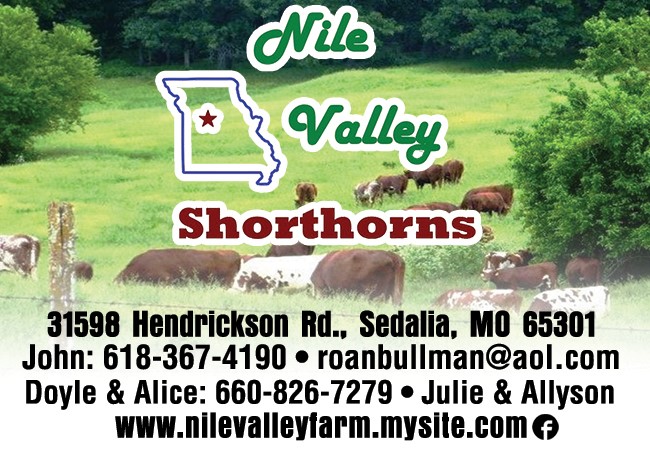 ---
Godiva 22 sells as Lot 16 March 28th, MSA online sale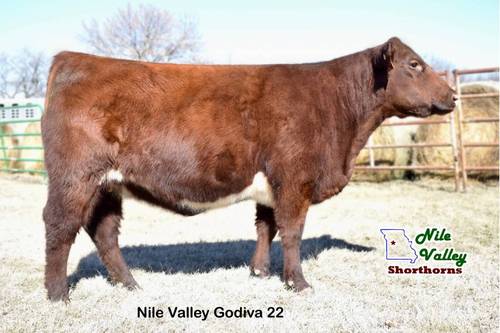 Special Thanks to Harker Farms - Godiva 22 new owners
Wow, awesome sale. Thank you.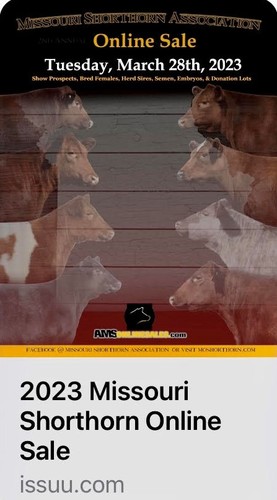 Thank you everyone for the immense support this evening!
It was a great second sale with cattle going to 8 states and a total sale gross of $68,145
Special thanks to all the bidders, buyers, AMS, and those who donated lots.
Missouri is Shorthorn Country.
Sold
Seeking New Grass. Open Yearling heifer Tag 41 Oly 83.
Sired by Marquis 127x and her dam Oly 61 is a 4 x Performance awarded cow.
This growthy red yearling heifer is seeking new pasture.
She boosts a great set of EPD's with WW top 2%, YW top 3% & $BMI top 4%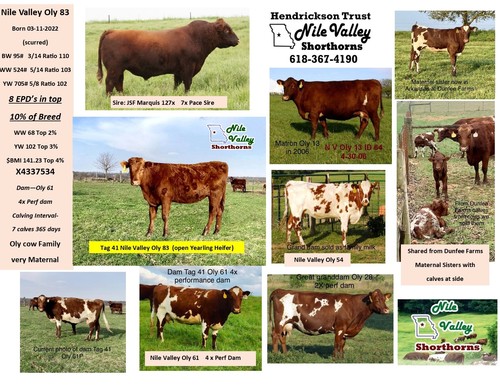 Yes, customers do drive across the nation to acquire Nile Valley breeding stock. Repeat customer: Marty Beshears with Doyle & Alice and co-pilot Jim from Alaska truck & trailer. They are going to new home in Arkansas with yearling bull and weaned heifers. We appreciate their business.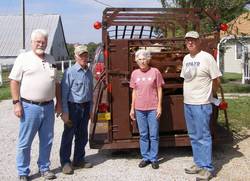 ---
Congratulations to new owners of Nile Valley Shorthorn cattle.
A special Thank You to our Buyers.
We appreciate your Busine
Harker Farms - Mountain Grove MO
Conrad Griffin Farms & Griffin Farms - Bonne Terre MO
Chris & Lisa Diller - Sedalia MO Todd Osterman - Conde SD
Drake & Haley Kelsey - Albion, IL Laura & Wesley Craig - Sulphur Springs. AR
Hulen Farms - Madison MO Chip & Jeanna Smith - Willow Springs, MO
Dane Scheetz - Oakley, KS Leak Genetics Kismet, KS
John & Ashley Ernst Ranch Delux Harrisburg MO Sarah Davis - Broughton, IL
Dunfee Farms- Jamison Dunfee - Gravette, AR Robert Holtzen - Mora, MO
Brett Weldon - Caanan Farm Dairy - Elk Creek, MO
Acorn Acres / Steve Clary - Farmington, MO Jeff Daleske - Warsaw, MO
The Lucky P - Henley, MO Gentry Buzzard - Shelbyville, MO
Brook Cherish Farm / Haguewood Family - Mineral Point. MO
Bobby Halcomb - Eagle Nest Shorthorns- Portland, TN
Hogan Farms - Russ & Joseph - Otterville, MO Bill Banner - Hermitage, MO
Jason Hatfield - Clark, MO Mike & Becky Ridgway - Clark, MO
Brandy Deleshull - Sedalia, MO Seven Oaks Ranch - Warrenton, MO
Walnut Creek Farms - Sedalia, MO Jerry & Karen Potocnik - Lees Summit, MO
Chet & Laura Mackiewicz - Warsaw, MO MG Kennedy - Trenton, MO
Danny & Esther Coker - Tecumseh, OK Robert Frye - Oklahoma City, OK
Roger & Becky Rosenfelder - Centralia, MO
Paul & Janice Smith - Osyka, MS Shawn Hoff - Scranton, KS
John & Ashley Ernst - Harrisburg, MO Hill Valley Organcis: John Luscombe - Blackwater, MO
Richard & Virginia Groff - Stover, MO Paul & Becky Commean - House Springs, MO
Three Bells Farm: Bob & Jackie Bell - Dover, AR Augustus Orth - Alexandria, KY
Conrad & Janeen Gibbs - Viburnum, MO Susan Alexander - Purvis, MS
Dennis Gray - Leighton, AL Marty Beshears - Gepp/Mountain Hope , AR & Central Alaska
---
Dakota or Timothy Hicks - Omaha, AR Gerald Shanks - Vienna, MO
---
Vicky and Scott Wetzel - Deerhavenfarms - Texico, IL Mike Morris - Moundsville, MO
---
Mike & Joy Simon - Sedalia, MO David Wetzel of Green Pastures - O'Neill, NE
---
Cliff & Kathleen Stice - Willow Ranch - Matheson, CO Tillers International - Scotts, MI
Lawrence Land & Cattle Co - Oxford, KS. Virgina Toole - Holden, MO.
---
Fred Guenther Family - Rich Hill, MO. Bill Wilderman - Silex, MO
Terry Larson - St. Louis, MO Kevin Dulle - Jefferson City, MO
Jake's Cattle Company, Ron Baylis & Marion Bentley - Hattiesburg, MS
Mary & Carl Biegler, Liberty Farm - Grafton, IL Tanner Riddle - Demascus, AR .
Robert Edgmon - Jasper, AR Cabrina Raible - Cane Hill, AR
B. J. Ranch, Bradford Ellsworth - Cabool, MO H.C. Edgmon - Jasper, AR
Harvey Farm LLC- Eolia, MO Hixson Farms, LLC - Galt, MO Boyd Westover - Joseph City, AZ
Marcy Phelan-Niles - Valley Center, KS Kelsey Hedge - AR Jim Stanaway - Boonville, MO
Corban Honeys Family Farm - Dickson & Hurricane Mills, TN Larry Drenon - Lincoln, MO
Stacy Jones - Poughkeepsie, AR Tracy Jones - Smithville , AR
Joe & Christine Hicks - Chadwick, MO Chris and Roxene Findley - Ottawa, KS
Jim Cutler Family - Pilgrims' Acres - Foristell, MO Raury Ann Polhill and Mary Herr - Higbee, MO
Megan Evans and Virginia Bredehoft - Independence, KS La Loma Ranch % Bud Berry - Chandler/Dallas, TX
Pasture Nectar Farm, Eric & Kathy Vimont-Mt. Vernon, MO Alvin Ericksen (Lake Creek Farm) - Poplar, WI
Bill Krusling & Maria Chiodi - Foster, KY Larry & Norma Hammons - Weeping Water, NE
Derek, Madeline, & Samer Doumit - Defiance, MO Fred & Loretta Leinbach - Barnett, MO
Hannah Burnett - Cameron, MO Richard Harness - Fulton, MO Kevin & Tina Heutel - Foley, MO
Norvin Schrag & Brad Ellis - Mound Ridge, KS
Roger Schwede - Wentzville, MO Alvin Dorman - Foristell, MO
Dale Schowe - Warrenton, MO Sho-Me Farms "Born Tender Beef" - Columbia, MO
Vinra Dairy, The Nisley's Hutchinson, KS
Contact Nile Valley Farm for your next Shorthorn.
You can be on this page also. Thank You all buyers..