About Nile Valley
Nile Valley Farm / Hendrickson Trust
Hendrickson Trust/ Nile Valley
John Hendrickson Alice Julie Carpenter & Allyson Sampson
31598 Hendrickson Rd Sedalia, MO 65301
Ph# (660) 826-7279 Farm
John's cell (618) 367-4190
contact us by email: roanbullman@aol.com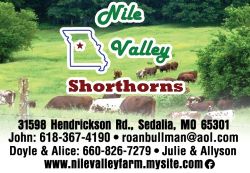 Our History
Our herd name originated from Doyle's grandfather who had registered Durham cattle in 1903 at Cairo, NE. Doyle's father continued the line and maintained a herd of grade Shorthorn cattle. As a young boy, Doyle dreamed of having a registered herd and bought his first registered animals in 1956, shortly after his marriage to Alice. Doyle and Alice moved the farm to Missouri in the early 1970's and have been here ever since. We are located southeast of Sedalia, MO.
We milked, classified, and showed a registered, Grade A herd of Milking Shorthorns until Doyle decided to 'retire' and take time to stop and smell the roses. We used our milking herd as a base for our Dual Purpose cow-calf herd & now has transitioned to all Beef Shorthorn herd It is our desire to maintain milk in our brood cows. Look to Nile Valley, if your cow herd need Genes Built for Grass from cows Bred to Thrive in Fescue Country.
Our Shorthorn calves, heifers, cows and bulls are raised on grass as nature intended. We rotate pastures frequently in various paddocks separated by electric fence. Pasture management is a key for proper nutrition of our cows; thus increasing gain and improving health of our herd. A good free choice mineral & de-worming program are fundamentals. No growth hormones are ever used. Many times during growing season pastures are clipped or shredded to keep fresh grass growth.
Our motto: Good Grass & Supreme Cows..
Growthy calves from mother cows that milk!

Shorthorns are noted for maternal instinct, gentle disposition, calving ease, good udders, milking ability, and high weaning weights.

The historic selection for these valuable traits assures the buyer of dependable performance!

Meat and milk in one package! Use a Nile Valley Shorthorn bull to add milk to your cow herd.

Still the most efficient, economical method to increase your weaning weights!

Calving ease Shorthorns are ideal for crossbreeding.

Fertility is the backbone of a profitable commercial or purebred herd. Without fertility, ther is no marketable product.

Every producer desires females that will breed as heifers, have their first calf, breed soon after calving and continue to do so throghout their productive life.

Shorthorn - sired females excel at all those things, reaching puberty sooner and maintaining a higher pregnacy rate than other prominent sire breeds.

Utilizing Shorthorn genetics in your commercial operation will give you more fertile cows to improve your bottom line.

---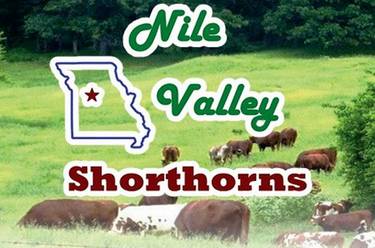 "Perform on Predominantly Fescue grass Pasture"
In our part of the country, our cows must perform on predominantly fescue pastures.
So the recent trend to Grass Fed cattle, our cow herd is born and raised on grass being Fescue Fed.
Nile Valley Farm's animals are: Totally Grass Based Genetics.
Never fed antibiotics. Never fed growth hormones. Never implanted.
Our cow herd is dual purpose. We stress body capacity (depth of body and heart girth) to convert grass roughage to milk and meat. Since we don't dairy any more our cows aren't as high in milk production as they once were, but we still value udders. We don't have meatless wonders or fragile dolls as we once bred. But the cows while milking or nursing will lose flesh (milk the weight off) that was gained during their dry period.
WE BREED ONLY THE BEST TO OUR BEST
AND CULL THE REST : THUS TO BE SIMPLY THE BEST...
Our cows must work for a living. Over All Volume, Depth of Rib and Length of Body is what Nile Valley cows are all about. We strive to produce super deep sided, big barreled versatile maternal machines.
Why Shorthorns? They are excellent grazers, with high heat tolerance and excellent ability to convert forage to milk. Cows must breed back on time or they don't get second chances. We value docile cows that are easy to work with. Shorthorns overall ease of management saves considerable input costs due to associated health costs and culling costs. Very adaptable to various herd programs. Truly versatile and Dual Purpose breed. Whether out in pasture raising Beef or in the Dairy barn Milking; this versatility is Shorthorn's greatest attribute.
Fertility, Locomotion, Longevity - the one breed that has it all.
Excellent mobility, excellent milk quality, excellent fertility and longevity, excellent converters of forage to milk,excellent temperament and adaptability.

These docile cows efficiently produce large volumes of nutritious milk each lactation and are large enough to have a high salvage value when their long productive lives finally come to an end. In addition, their healthy calves born each year on regular trouble free calving intervals are spunky at birth, grow rapidly, and those not kept for breeding stock and herd replacement make efficient gains and hang very desirable grading carcasses.
Our cattle must follow a strict performance program to remain in the herd. We weigh and measure everything at birth, weaning, yearling and maturity. We also linear measure all of our herd at all stages of life; thus developing a very uniform group. We maintain about 90 breeding females and evaluate reproductive and maternity performance of every cow.
As of July 2015; all of Nile Valley females & herd sires are double registered in both AMSS and ASA. We are a Whole Herd Registry herd with ASA and have submitted BW, WW, YW, calving ease, hip heights, & the cows weights to the new ASA registry site. Whole herd performance records on ASA for EPD's, annual excel data spreadsheets & ASA photo pedigree system. We value record keeping and help us always following our strict performance program. Breed only the Best to Our Best, & Cull the Rest...
We have carcass and tenderness data on some steer crops from our herd. We have been using Igenity dna sampling on females and bulls since 2007. Data has been collected for RFI, Tenderness, Average Daily Gain, Marbling, Percent Choice, Yield Grade, Fat Thickness, Ribeye area, Heifer Pregnancy, Stayability, Maternal Calving Ease, & Docility. We have started collecting ultrasound data on yearlings. We are taking part in sending herd data for 50K testing to benefit from genomically enhanced EPD's. Another tool in selection of the Best & Cull the Rest.
We also TH test all calves and use only TH Free Sires, we are a TH Free Herd.