Catalog
Heritage Award
We at Hendrickson Trust/Nile Valley Shorthorns are honored and humbled to accept the 2022 Heritage award at the ASA Banquet in KCMO November 19th, 2022 in honor of our dad Doyle Hendrickson.
Special thanks to Montie & the whole ASA staff and the ASA board of directors for recognizing his lifetime achievements.
Family photo with Award
Some of the family with Heritage Award honoring Doyle Hendrickson at ASA Banquet November 19, 2022 with Shorthorn queen.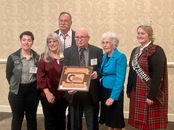 Julie Carpenter, John Hendrickson and Alice Hendrickson thanking Shorthorn breeders for honoring Doyle's lifetime achievement with Heritage Award

Heritage Award Story honoring Doyle V Hendrickson
Doyle Hendrickson of Nile Valley Shorthorns
Doyle Hendrickson was born and raised with Shorthorns in Nebraska on January 3, 1933. The farm name, "Nile Valley", comes from his Grandfather, David Hendrickson, of Cairo, NE. In 1903, Doyle's Great-Great Grandfather H.S. Balcom went to England with the owner of Ravenwood Shorthorns from Missouri and bought cows from the Rose of Sharon cow family. His Grandpa David bought several offspring from those cows at a Balcom dispersal sale. Some of Doyle's fondest childhood memories are riding with Grandpa David on the Bettendorf wagon seat driven by a team of mules, discussing livestock care and evaluation. He spoke about linear evaluation and the benefits of a uniform, quality herd. Dad was only 6 when his Grandpa passed but those lessons and love of farming stayed with him for a lifetime. The metal wagon seat now resides at Nile Valley Farm in Sedalia, MO.
After Serving in the Military, Doyle came home and gave Alice Hinkson a diamond ring. They were wed on August 28, 1955. Soon after they bought a registered Shorthorn cow and bull at a dispersal sale. Doyle would keep his eye on sale bills around the country, including a purchase of Page's Imperial Rose 3rd X and three daughters from Sand Springs, Oklahoma in 1963.
In 1972, Doyle & Alice moved the family and Shorthorn herd from the Hendrickson homestead of Cairo, Ne., to the present farm at Sedalia, Mo. The name Nile Valley became a play on words that tied the old location to the new. Once established in the heart of Fescue country where ample grass grows, Doyle transitioned his cows from bunk line fed to exclusively grass grazing.
For 42 years, he and Alice milked those cows, then on his 65th birthday in 1998, on a cold January morning, Doyle decided to not retire, but just change course. After the milking stopped, Doyle called his older cousins to try to re-invent their grandpa David's linear measuring detail of the beef cows. This is one of Nile Valley's key selection methods for a uniform working cow herd. Complex weights and measures and attention to detail in record keeping has been a family project directed by Doyle's passion and vision. They have nearly 27 years of herd information recorded and cataloged by Alice and Doyle. Julie now imports data collected at the chute and scales." This passion and attention to detail was usually accompanied by the phrase, "Ya gotta do what ya love and love what ya do.
Doyle enjoyed wood carving and created dozens of caricatures mostly from wood harvested from his farm. Some of his favorite subjects included cowboys, Christmas themes, Native American warriors and of course cattle.
Nile Valley Shorthorns is home to 28 Performance Awarded cows, offering several cow families that have remained viable contributors through the transition from milking to beef. In June 2020, the Hendrickson's were acknowledged for their long history and their success with the Shorthorn breed when the Missouri Shorthorn Association (MSA), during a tour of the cow herd at Nile Valley, named Doyle the 2020 Breeder of the year. From 1983 to 1997, he received the top-Quality Milk Award 11 times. In 2000 and 2002, he bred the top gain heifer and in 2002, 2005 and 2006, Nile Valley earned Premier Breeder & Exhibitor honors at the National Dual-Purpose Shows. In 2007, the Hendrickson's were named Dual Purpose Breeder of the Year; and proclaimed Citizen of the Year in 2008. He was always reading to keep up on the latest trends and data and searching sale catalogs for that perfect cow or bull.
Additionally, the Hendrickson's have faithfully donated their time to serve and promote the Shorthorn breed in multiple ways, including Doyle serving three terms on the American Milking Shorthorn Society (AMSS) board of directors.
From 4-H leader to church elder to Missouri Cattlemen's Association Official Beef House dish washer for many years; Doyle, with the help of Alice, dedicated a lifetime of service to his community and to his Shorthorn cattle. A Memorial Contribution was given to the Shorthorn Youth Development Fund.
Doyle had a heart of gold that bled red, white, and roan. He is survived by his wife, Alice, of Sedalia who still presides at the farm. Additionally, survived by two sons, John Hendrickson and spouse, Sue of Centralia, IL., James Hendrickson and spouse, Debbie, of Oxford, MI., and one daughter, Julie Carpenter of Sedalia and her spouse, Mark Carpenter of New London, MO. Also surviving are three grandchildren; Kyle Hendrickson of Hillsborough NC, Jesse Hendrickson of Brooklyn, NY, and Allyson Sampson attending the University of Missouri, majoring in Animal Science. Other survivors include three step granddaughters, Christina, Ruby, and Kim and their six children and six grandchildren.